Radargrams
.
check it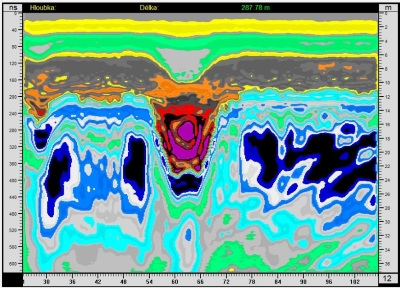 Basically, radargrams are colour images into which the reflected signals are converted using preprocessing routine for enhancing the image readability. Various filters are used then to point out specific structures in subsurface.

The colours do not indicate specific materials or objects. Shapes of the reflection, a contrast and colour intensity are important for interpretation. For more information, please check out the article How to understand radargrams.
Archaeology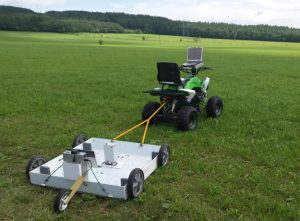 In archaeological scenarios, GPR usually measures shallow depths up to 5 m. Because of this, using transmitters with a pulse amplitude up to 1,000 times greater than the conventional GPRs may seem unnecessary for use in archaeology or similar surface surveys. The problem, however, occurs in arid loess soils or in damp clays in the lowlands, near waterbodies and in highly mineralized or salty soils. In such conditions, common GPRs are only able to reach depth of tens of centimetres at a frequency of 500 MHz. Higher transmitting power allows us to select a higher frequency and thus gives us a more detailed resolution.
Measurement examples:
Speleology, Geophysics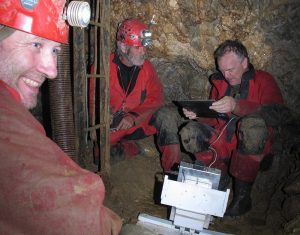 GPR can verify position and depth of caves and their course. Limestone, the rock in which the caves are located, has a low attenuation of wave, so GPR can reach greater depths. Measurement can be provided from the surface or inside the caves in all directions: on the floor, walls, ceiling, caves chimneys and shafts. Barometric pressure sensor is very useful for depth measuring there. When searching for unknown cavities, and the antennas are towed by ATV or behind a car, it is possible to measure even several tens of kilometers of profile per day.
Speleologists appreciate the work with Roteg because it enables to trace the course even of small anomalies quickly, cheaply and with sufficient accuracy compared to other geophysical methods.
Measurement examples:
Water areas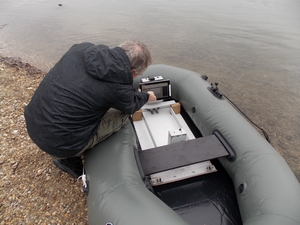 GPR measurements are also possible to provide on the surface of the water (or on ice), antennas can be placed in a boat that does not have a metal bottom or they can be manually dragged from the shore by ropes.
It is not possible to use the wheel, so the automatic time measurement is used for distance measuring and GPS provides information about the trajectory. Radargram shows not only the bottom but also the structure of the bedrock underneath. It is possible to measure the pool siltification (sediments accumulated on the bottom of stagnant water) for example.
Measurement examples:
Searching for water in a subsoil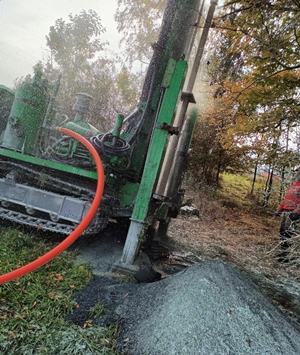 This is a search for places suitable for wells and boreholes with water pumping, usable for houses and villages. This is not a search for the groundwater level at shallow depths, georadar cannot do that, such interfaces tend to be gradual and we do not see them in the reflected wave at frequencies from about 50 MHz. It is different if we use a low frequency. From 20 MHz below, the georadar wave behaves a little differently than at higher frequencies. Environments with increased humidity have a great influence on the phase of the reflected wave, the long length of the wave also affects a larger water volume and reflections from smaller cracks are not visible. The wave phase is mainly affected by the amount of water, the permittivity of various rocks does not have such a significant effect.
The increased permittivity is manifested by the negative phase of the wave, for which a blue color is generally chosen, so we assume a higher water content in the blue areas.
Measurement examples:
Searching for minerals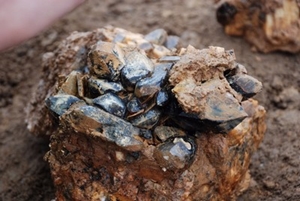 The veins in which some minerals are found often rise to the surface. The minerals contained in them are then searched in the fields, preferably after rain in the field. However, many of them are damaged by plowing or are disturbed by frozen water. Finding the original vein by excavation at such a site is expensive and laborious. However, Georadar is relatively easy to find. The contrast is caused by a different type of material in the vein and its immediate vicinity. There may be cavities or various fillings in some thick veins, and these often show hyperbole-shaped reflections. With the use of a transmitter with a pulse of 10 kV and a Roteg receiver, it works.
Measurement examples:
Scientific studies
Available online researches on ResearchGate, based on our GPR Roteg.
Results of measurement with the GPR with abnormal big power output and continual spectrum (read online or download PDF)
Detection of Divaška Jama corridors behind (to the SW) Trhlovca cave using low frequency high power ground penetrating radar (read online or download PDF)