GPR Roteg
.
discover the unseen
Roteg is very powerful, state-of-the-art GPR developed by RTG company. Technical parameters rank it among the world leaders for detecting and location of underground objects. Roteg's effectiveness has been tested, as you can see on our radargrams.
The device consists of several components: receiver, transmitter, antennas and PC with the program. The Roteg receiver is controlled via wifi through our Spirio SW. We use antennas with wide frequency range from 0.1 to 1000 MHz, which enable us to search for archeological objects and explore the soil to the depths of hundreds of meters. The whole system is modular and can be installed and combined with other components.
Receiver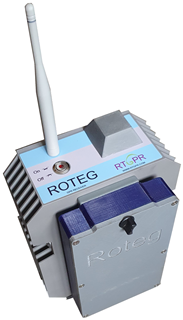 Our receiver is able to process antenna voltage in a very wide range. Thanks to this we can use special designed autonomous pulse generator transmitters which are capable of giving a voltage pulses up to 40 kV. The receiver is not mechanically connected to the transmitter – there is a wireless synchronization. Therefore it can cooperate with a number of different transmitters.
Specification
FREQUENCY RANGE
0.1-1000 MHz
A/D CONVERTER
16 Bit
SAMPLING FREQUENCY
500 MHz – 4 GHz
RECORDING TIME
60 – 128 000 ns
MEASUREMENT RATE
>  600 traces/second (all pulses from transmitter)
VERTICAL RESOLUTION
0.25 – 2 ns (based on sampling frequency)
GAIN
120 – 180 dB adjustable
STACKING
1 –  500, adjustable
TRIGGERING MODE
Wheel, Time, Manual
STEP
5 mm to 10 m
WIFI
2.4 GHz
BATTERY
12V / 9600 mAh (4 hours of peration – exchangeable)
GPS ACCURACY
1 – 2 m (or external GPS)
BAROMETER ACCURACY
± 10 cm
IP CODE
IP53
DIMENSIONS
280 x 180 x 165 mm (approx 11 x 7 x 6.5 in)
WEIGHT
4.57 kg (with battery)
REAL TIME ON SCREEN DATA TRANSFER AND CONTROL BY WIFI
DETACHABLE DC 12 V ACCUMULATORS

Antennas

The selection of
antennas frequency and thus the resolution and depth should be always realized with respect to the anticipated object. The importance of right antenna selection is also related to the survey economy. Underground survey can be done very fast with indicative results but also with detailed mapping of the found anomalies. GPR uses a set of unscreened broadband antennas for different depth ranges and resolution which vary from short antennas (30 cm, 500 MHz) to the long antennas (12 m, 12 MHz). Antennas are with an impedance range 1-50 Ω, for use according to the characteristics of the subsoil.
Software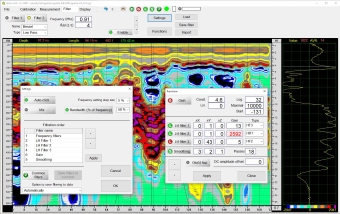 Our Spirio software enables to control all GPR settings and data collection as well as for post-processing the data. Communication proceeds through WiFi. The Spirio works on Windows OS.
The output data files (DAT, PAR, COR and TOP) can be opened in ReflexW software. The data format can be adapted to meet your requirements.
The new receiver data example → files DAT and PAR. Processing Procedure in ReflexW download PFL data.
PC Ruggon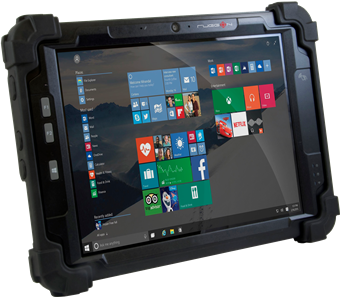 For our GPR, we chose an industrial PC Ruggon, which according to our experience is fully convenient for hard conditions of GPR surveying because it is waterproof (IP65), has a long battery life and it is equipped with a high brightness display.
Versatile rugged 10.4-inch tablet computer Ruggon PM-522 uses an Intel Atom E3827, carries IP65 sealing, offers 4G LTE, two cameras, a 2 MP front-facing cam conferencing, and a rear-facing 5 MP camera documentation and much more.
The 700-nits sunlight-readable screen benefits from anti-reflective coatings and circular polarizers. In terms of size and weight, the PM-522 – designed for a wide range of field mobility duties – measures 10.8 x 8 inches and is just over an inch thick. Weight is 1.3 kg (without the protective rubber bumpers). In-box Accessories: stylus, hand strap, shoulder strap, Ethernet adapter, power adapter.
Anyway, any Windows OS PC can be used.
Transmitter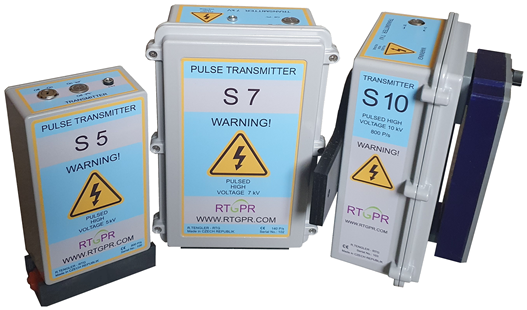 Our transmitters belong to among the most powerful transmitters in the world. It is able to provide very fast and stable high-voltage pulses from 5 kV to 40 kV (depends on type), making possible to get to much greater depths than conventional GPR.
Pulse freguency is from up to 1000 Hz (depends on type), pulse length is 3-5 ns. The transmitter is powered by its own internal (or external) rechargeable battery.
For any questions and suggestions please contact us.